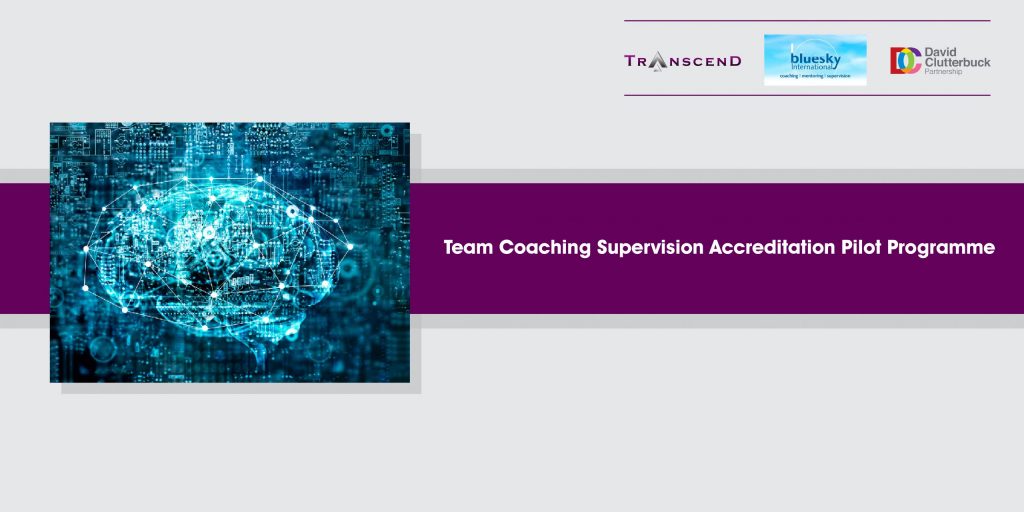 CERTIFICATE IN TEAM COACHING SUPERVISION
Table of Contents
Background
Team coaching is the fastest growing area of coaching but the number of supervisors, who have sufficient and relevant experience in team coaching is very limited. One estimate is that the world will need 150,000 new team coaches over the next five years. This program is your opportunity to incorporate team coaching supervision into your practice. It is led by leading global authorities on team coaching and on supervision, with guest appearances from other highly experienced team coach supervisors.
Who is the program for?
The program is designed for experienced supervisors (at least five years practice) of one-to-one coaches who want to add Team Coaching to their portfolio.
 Holders of the EMCC Global  ESIA award and APECS accredited supervisors will automatically be eligible for meeting the entry criteria to the programme.  Other forms of applied prior supervision experience and learning will also be taken into account. All potential participants will be interviewed in advance of acceptance on the program.
What will the program lead to?
This will be the pilot for evaluating the feasibility of accrediting Team Coach Supervisors. How this will be acknowledged is part of the pilot study.
What will the program cover?
There will be six 2 -hour modules, delivered online via Zoom, interspersed with five 2-hour Practicums. Prework for the program will include extensive reading (estimated 20 hours). You will be required to enlist at least three team coaches as practice subjects for the duration of the program and a total of five for your reflection logs. We will assist you in finding suitable volunteers.
CERTIFICATE IN TEAM COACHING TRAINING Schedule
TIME: 
1630-1830 Hong Kong, Singapore, Shanghai, Malaysia, Perth
0830-1030 UK
0930-1130 Europe
0330-0530 US
1400-1600 India
1930-2130 Sydney
Session
Date
Content
S1
February 4, 2021

Module 1: The basics of team coaching

Clarifying the difference between team and individual coaching and between team coaching and other interventions, such as process consultancy and team building
The stages of a team coaching assignment: where coaches most often run into difficulties and how supervisors can help

Practicum 1 (February 23, 2021):

Supervising a team coach planning an assignment. (This will ideally be a real case, with volunteers invited.)

S2
March 3, 2021

Module 2: The transition from individual coaching to team coaching

The competencies and personal qualities required in team coaches
The link with personal maturity
The issues team coaches bring to supervision
The support coaches need from their supervisor (formative, normative and restorative)

Practicum 2 (March 25, 2021):

Supervising a team coach in creating a personal development plan and in overcoming setbacks. (This will ideally be a real case, with volunteers invited.)

S3
April 6, 2021

Module 3: Systemic approaches to team coaching

Review of the two primary models of systemic (Hawkins) and complex adaptive systemic (Clutterbuck) team coaching and the role of the supervisor
How the client – coach—supervisor system is complicated by the addition of team dynamics
Working with patterns and levers in a complex, adaptive system

Practicum 3 (April 23, 2021):

Supervising a team coach working through discovery stages. (This will ideally be a real case, with volunteers invited.)

S4
May 5, 2021

Module 4: Behavioural dynamics in teams + team coaching supervision contracting

How to support a team coach in developing greater awareness of what is going on in the room
Projection, counter-projection and other interpersonal dynamics
Common derailers (e.g. the non-team-player)
The multiple contracts within a team coaching assignment – managing the conflicts

Practicum 4 (May 25, 2021):

Supervising a team coach through team or leader behaviour challenges. (This will ideally be a real case, with volunteers invited.)

S5
June 23, 2021

Module 5: Supervising dyads

Unless a team is very small, it is normally recommended that coaches work in pairs.
Contracting between team coaches
Team coach to team coach
Team coach with themselves
The coaching dyad as a team—role modelling, projection and other hidden influences

Practicum 5 (TBD):

Supervising a team coach pair. (This will ideally be a real case, with volunteers invited.)

S6
TBD

Module 6: Your development as a team coach supervisor

Presentations of reflective learning[LL1] from your practice sessions with team coach supervisees
Presentation of your development plan as a team coach supervisor
Faculty
This programme will be delivered by David Clutterbuck, Lise Lewis, Tony Dickel and Craig McKenzie.
Investment
As a pilot program, the course has been priced at a low price of USD 2250 to recognise your role in developing the curriculum with the presenters. Experimentation will play a major role in the learning process.
Register
Contact
Call us at +852 8191 6819 (Mondays – Fridays between 9am-5pm HKT excluding public holidays).